I remember that I had a phase back in high school where I would watch WWE. Maybe it was a little rebellion because my parents weren't so good with it. Maybe it was watching the athleticism and the cheesy rope opera storylines. Maybe it was the muscled men all oiled up around the time when puberty staged its more hostile takeovers of my brain. Whatever it was, it died down once I went to college. It just aired at the exact wrong times for class and homework and having a social life. Seeing what happened to the Nexus took a back seat.
About two years ago, I started LARPing. And oddly enough, there were already a good amount of WWE fans there. I mean, it is heavily male and tends to be an older fan base than my age group, so we had people who watched in Hulk Hogan and the Rock's heyday who still did. I even started to date one of the fans. So I figured, what the hell let's see what we've got.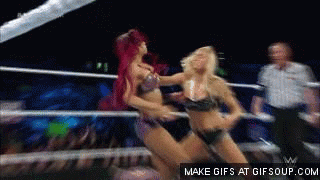 YAAAAAS QUEENS SLAY!
Women's wrestling stopped being my bathroom and snack break! Hell, sometimes it was the best part of the entire show! Bayley, Sasha Banks, Naomi, Carmella, Alexa Bliss, Nia Jax, Becky Lynch, Charlotte Flair! Gone were the barely-competent model types, hell even the Bellas were actually wrestling! Well, one of them was. I'll take what I can get. Admittedly the queen of "almost killing people with her finisher" Alicia Fox is still there, but I'll take that bad lining with the huge swaths of good!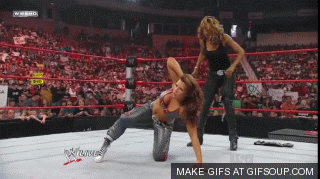 Seen Above: One of the few times she DIDN'T botch her finisher.
So much good, and a new variety of body types and styles. Sure, a lot of them are model pretty but they can freaking fight! I know Wrestling isn't real, but those women up there are. It doesn't feel nearly as cookie cutter anymore. And as a girl who will never look like the Bellas, I love seeing athletic women of all kinds. Nia Jax, you're an amazing wrestler and just exude power. And even on the other end, Alexa Bliss is the tiniest thing in the ring but she is smarter and more cunning than most of the women in that ring. Charolette is a legacy, daughter of the legendary Rick Flair (WOOOOOOO). Sasha and Naomi are extremely versatile, and Becky is terrifyingly brutal as a bruiser. Bayley is a sweet, earnest babyface who I don't know how they will ever take heel. Great heroes, great baddies, I love all of them.
Which makes the fact that none of them are in the Mae Young Classic even more important. Because they already have a platform. They made it to the main roster of one of, if not most viewed Wrestling Promotion. But there are so many women who aren't getting their platform, taking the indie circuit but never really being recognized for their merits and talent. Most of the women on the roster I had never heard of (one exception, but I think she was everyone's exception). There are so many body types represented, and 13 different countries. A good amount of them are on NXT, which can be best described to non-fans as the WWE minor league team. After this tournament I'm betting there will be more both there and on the roster.
When this launches, we won't know who the winner is yet. But even in just the first round there isn't a bad performance in the bunch. Even the losing competitors looked strong, if not just a little inexperienced. Slight spoiler, but the only one who I thought really looked even a little dumb or weak was the inexperienced wrestler whose instinct against a former UFC fighter was try to go for a submission hold.
Do Not. Attempt. To take an MMA Fighter. With UFC experience. Down to the Mat. Without a SERIOUS Plan. It can only end in PAIN.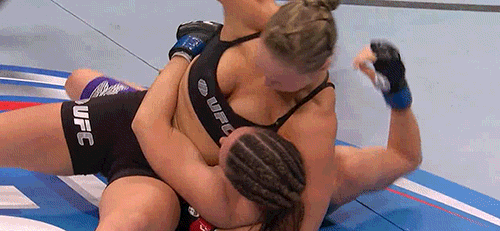 Tap or the next person you see is a doctor.
We'll learn the winner soon, and what will happen with the rest of the competitors. I see a huge influx of talent into the Women's Divisions of both WWE and NXT. I really hope this won't be the last Mae Young Classic. A women's only tournament for pro wrestling is really rare and I loved watching every minute of it. Those women have been inspiring, and each of them prove that any body can be athletic. I know it's been inspiring more of my workouts lately.
Some of my Personal Favorites:
Jazzy Gabert, AKA Alpha Female
She lives up to the billing. A true powerhouse.
Piper Niven
She's built for power, but has a lot of unexpected speed and quickness.
Toni Storm
Her attitude and personality come out when she fights. Seriously amazing to watch, and one of the youngest in the competition.
Tessa Blanchard
Third Generation Wrestler and you can tell it. She's gonna go places.
Kairi Sane
YAAAAAAS QUEEEEN LOOOOOOOOOVE. I can't be coherent with her. YAAAAAAAAAAAS
Thank you, you badass Queens. May you shine in that Spotlight as long as you want. And may gold be always around your waists.
(As I was writing this, I just got word that 16 of the 32 have already signed contracts with the WWE since this tournament started. No word on whether or not they include the NXT alumni, but over half are in! Yes please! Yes Yes YEEEES!)
(All Images minus the UFC gif are property of WWE. The UFC clip obviously is property of UFC)